On the boat, look for dolphins download the short movie
click to see short movie / film

boat ride with ron schwartzman and Ed Kranski and dolphins

to see film
instructions

copy below
http://www.prestigioushomesflatfeeservices.net/MOV01121.MPG
or click below and wait about 1-2 mn's

MOV01121.MPG

instructions
put link in media player ex. widows , real player
then give it a minute or two to download, if you are on DSL..
if you are on a dial up its gonna be a while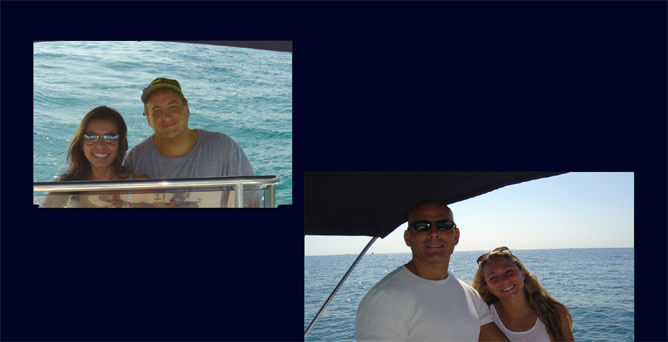 Boat ride- ron schwartzman- ed kranski and dolphins

Bottlenose dolphins

SIZE
The bottlenose dolphin grows to be at most 12 feet (3.7 m) long, sometimes weighing more than 1,400 pounds (635 kg). Most are smaller than this.
SHAPE AND FINS
Bottlenose Dolphins have stream-lined bodies and a rounded head with a distinctive beak. They have a tall, falcate (sickle-shaped) dorsal fin and broad, slightly pointed flippers.
DIET AND TEETH
Bottlenose dolphins are hunters that fish mostly at the surface of the water, eating mostly fish and squid . They have many pairs of sharp, pointed teeth distributed in both the upper and lower jaws.
PREDATORS OF DOLPHINS
Some sharks (including tiger sharks, dusky sharks and bull sharks) and orcas will prey upon dolphins. Dolphins are also often trapped in people's fishing nets.
SOCIAL GROUPS
Bottlenose dolphins live in small pods of up to 12 whales; they are very social animals. Often, many pods group together to form congregations of hundreds of dolphins.
DIVING, JUMPING, AND BOW RIDING
Dolphins can dive down to more than 1,000 feet (300 m) and can jump up to 20 feet (6 m) out of the water.
A bow rider is a dolphin that hitches a rides in the bow wave in front of a ship. The dolphin surfs using the pressure created in front of a moving ship.
SPOUTING - BREATHING
Dolphins breathe air at the surface of the water through a single blowhole located near the top of the head. They need to breathe about every 2 minutes, but can hold their breath for several minutes. Their blow is a single, explosive cloud.
SPEED
Dolphins are very fast swimmers.
HABITAT AND RANGE
Bottlenose dolphins live near the coast and inshore waters from northern Cape Hatteras to southern Florida and westward through the Gulf of Mexico. Another population lives near the continental shelf off New Jersey. Bottlenose dolphins live in different areas during the different parts of their life cycle, for example, breeding and giving birth.